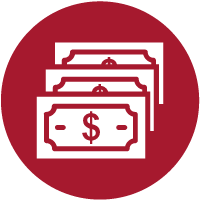 Tuition at Southwestern for US residents is $109 per credit (plus fees).
For example, one term at Southwestern for general undergraduate studies including tuition, fees and books:
Half-time student (6 credits) = roughly $1,000* per term
Full-time student (12 credits) = roughly $2,000* per term
See full details on the tuition and fees page.
*These are approximate examples only and will vary for each student depending on classes taken. These very rough estimates do NOT include the cost for housing, meals, or international tuition. Check out the Cost of Attendance for the total estimated expenses for one year including tuition and fees, housing and food, books, supplies, course materials, equipment, transportation, and miscellaneous expenses. 
Need help paying for classes?
There are several resources you can tap into to get help paying for classes:
Financial Aid
The first step is to fill out the FAFSA or the ORSAA.
Get more information on applying for Financial Aid.
Payment Plans
Monthly payment plans for students are available. A non-refundable fee of $32 per term is charged for the payment plan. Payments are due on the 20th of each month. If a scheduled payment is late or missed, a $30 late fee will be added to your account balance. For details about payment plans, login to myLakerLink and visit the My Account page.
To set up a payment plan, contact:
Scholarships and Tuition Waivers
Scholarships through the Southwestern Foundation are available for both full-time and part-time students! Applications are open annually, Jan. 1 – March 1. For all the information about how to apply, visit the scholarships website.
Some students may be eligible to attend Southwestern tuition-free, including recent high school graduates who complete with a 3.75+ cumulative GPA and Southwestern GED completers who score an average of 155 across the four exams. For specific details, visit the Financial Aid page and jump to the "Award Info" section.