Southwestern has an open-door admission policy and is a premier destination for acquiring transfer degrees, high-skilled job training and lifelong learning.
If you need assistance enrolling please contact the Student Success Center at 541-888-7352 or email us. 
In general, students may enroll in classes if they meet any one of the following requirements and have the ability to benefit from instruction:
Are 18 years of age or older
Have graduated from an accredited high school
Have completed a General Education Development (GED) certificate or an Adult High School Diploma
Were home schooled and have met state requirements for high school equivalency / completion
Applying for admission at Southwestern is easy and all online. Once you have been accepted, you will receive your student ID number and with this number you will be able to log into your newly created account to complete the enrollment process.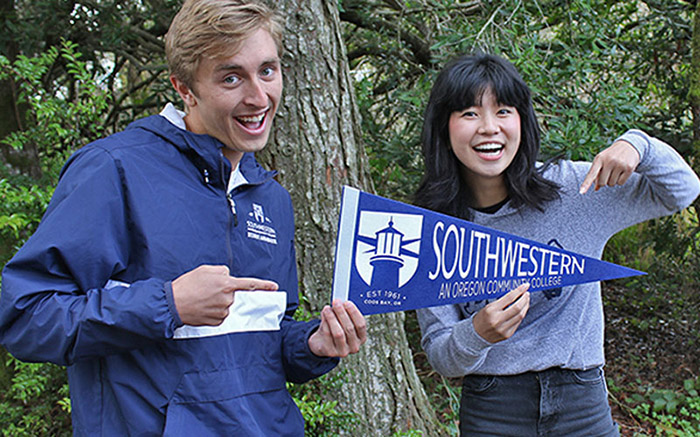 Complete The New Student Orientation
Login to myLakerLink using the information emailed to you. Once you are logged in, click the link below to take the orientation. The orientation provides the information you need for a successful beginning at Southwestern. Complete it at your own pace.
Having trouble logging into myLakerLink? Visit the Help Desk Portal for assistance.
Meet With An Intake Advisor
Meeting with our intake advisors assists you in negotiating the intricacies of getting started and prepares you for your academic journey.
When to schedule your advising appointment? If you are starting at Southwestern…
Fall term = Schedule your appointment starting in May

Winter term = Schedule your appointment starting in November

Spring term = Schedule your appointment starting in February
To best serve you please:
Include first and last name in your appointment request and indicate your preferred form of communication: in-person, via phone, or online video conferencing; keep in mind appointment times are Pacific Time Zone
Note what term you are planning on attending and what degree/certificate you are interested in
Select the appropriate staff person to meet with based on your degree/certificate interest
SCHEDULE YOUR APPOINTMENT:
You will receive a confirmation email when your appointment is scheduled. Be sure to check your junk folder if you don't see it come through!
If you only plan to take online courses, simply choose the campus you plan to utilize for assistance.
Advisors are available Monday – Friday* from 8 a.m. – 5 p.m. (*Closed on Fridays during the summer). If you are unable to meet between these hours, please call 541-888-7405 to schedule your appointment.
We strive to make education affordable. With no out-of-state tuition and a full range of financial options, an education is easily within reach.